The Great Wall has been on my 'bucket list' since forever. Actually I have quite a looooonnnnggg bucket list but traveling is one I have been fortunate to obtain fairly easy over the last few years. With this being said I had put off China as I was waiting for a good time to go, or someone who wanted to go, however as I have learned DO NOT WAIT ON OTHER PEOPLE, even if they say they will go or can go. If you have an opportunity just GO. My own sister promised she would join me on a trip, I bought the ticket and guess what...life happened and she didn't join me. After that I learned not to wait...just do it.
After a wild time in Bali, tours, swinging over the jungle, getting sick as a dog with Bali belly and the worse being in the same city in a foreign country with former President Obama and still not getting the chance to meet him...I was heartbroken but the show/trip must go on...Beijing, China was next on my list.
Beijing was overwhelming to say the least but thanks to the lovely folks at Tour Beijing made it easy as 1,2,3. I took two tours with this company. Both days I had the same guide 'Lucy' as well as driver Mr Chia (not 100% of the spelling of his name, but I believe Lucy is correct or at least the pronunciation). They were punctual, polite and all around great people. Both tours were private, so we got to know each other quite well.
The tour on the first day was amazing and short. I arrived at 558 am, made it through customs and made it to my hotel (St. Regis Beijing) by 715am. The staff their is lovely but as a world class hotel I was hoping for a few more bilingual/english speakers. It was quite aggravating. However I made my voice known and management listened. And when in Beijing, I will return. Back to the tour:
Day 1: The Half day Cooking tour. We began early morning around 930 am. Lucy was in the lobby when I arrived. We drove to a lovely neighborhood and went shopping at some of the local vegetable markets. It reminded me of bodegas back home in NYC. We walked for a bit and she gave me an overview of the streets as well as Chinese culture and dynasties. It was very interesting. Soon we went deep into the Hartongs (streets) and she took me to the house where we would learn how to make authentic Chinese dumplings and have lunch. She explained that dumplings are the simplest of dishes and many Chinese mothers use it as a litmus test for women who want to marry their sons. And well...while I had a grand old time, Lucy and I both agreed that I should be glad that it's 2017 and many Chinese men cook, as my dumplings..well let's just say they were not on fleek. But I had a great time: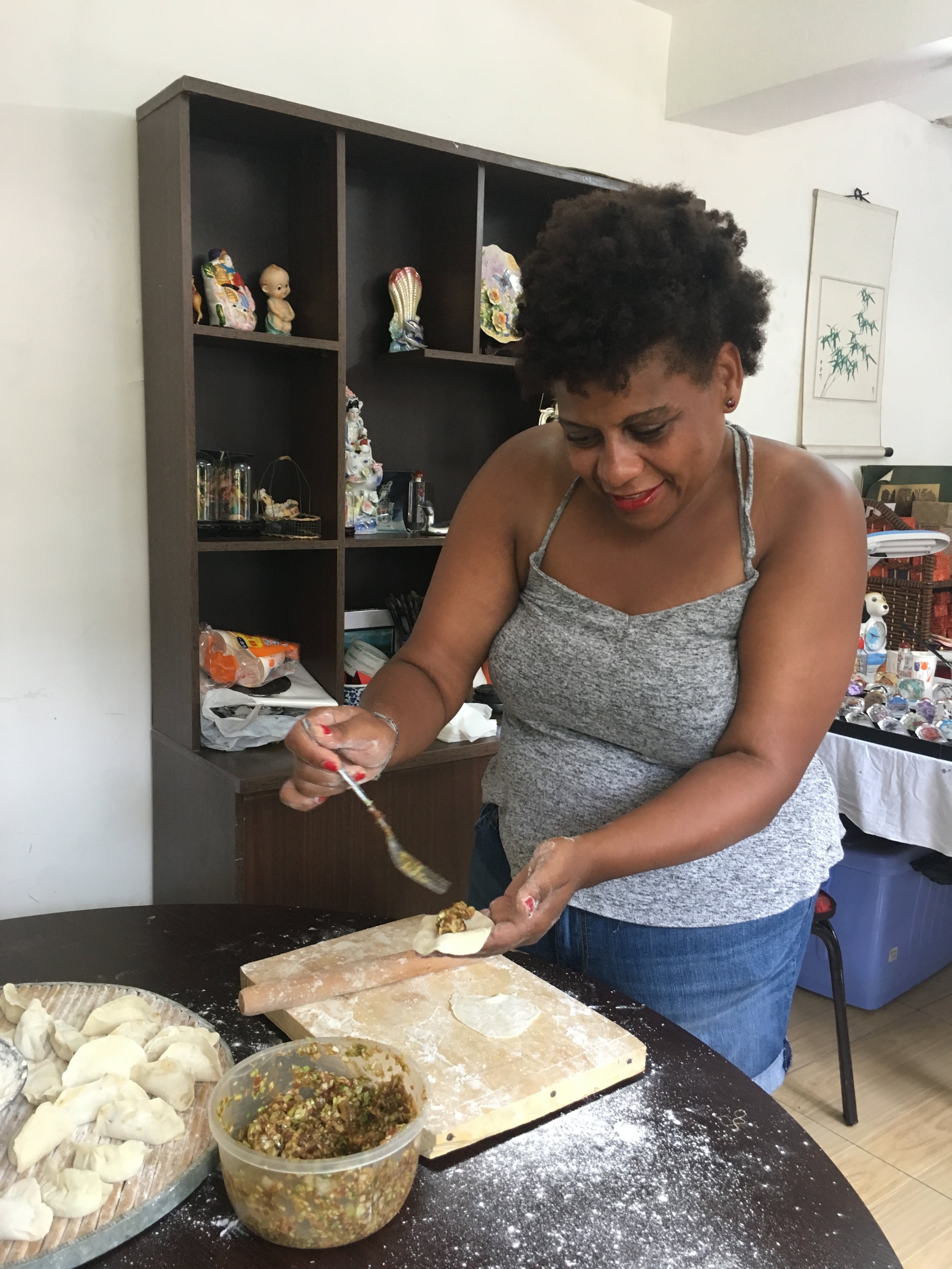 I can cook too, on top of the rest my dumplings are the best in the town...ha!
While there, we met a wonderful artist who hand painted the most beautiful designs inside of glass bottles. I fell in love and of course Lexie had to have one. (and by Lexie I mean me)
The next day was the day I had been waiting for...THE GREAT WALL...check!
Afterwards I took the toboggan down as I was tire, hot, old and pudgy...I did not have the heart to walk anymore...mama was done. As luck would have it. I got the "Michelle Obama" car. I will happily put my rear end where hers has been any day of the week. I love her. I wanted to add a pic but squarespace is being a bit dicey. You can see it on my INSTAGRAM tho.
The day was also spent in Tiananmen Square and the Forbidden City:
Side Note: TWB- Traveling While Black in China can be a bit oppressive if you aren't ready for constant staring, and picture taking. I honestly felt like an animal at times. Some people (especially in that part of the world) have NEVER seen a black person, and are curious. THAT I understand. They would come up and talk to me and ASK to take a picture, which I have no problem with. It was the people who tried to sneak photos, or would physically put their hands on me and force me to be in a picture. I had a few #jesustakethewheel moments, but all in all it was a wonderful experience.